This book has pushed me to an entire new level in my life and career choices.
Za Redmon
A frank and honest discussion of the 8 reasons (see below) musicians fail to build long-term, music careers and the proven "real world" truths about business that are rarely taught to people in "the arts."
Full of usable tips and tools about finance, marketing, sales, communication, strategy, goals and people that can be applied directly to your music career.
Available wherever books and e-books are sold or click on the pic to order your copy from Amazon today!
Loved it…extremely beneficial and practical.
David J.
Best money I've spent, in a long, long time!
Stacy C.
Just finished reading…a great read for real.
Duane B.
Steve Grossman covers everything you need to know about starting a career as a musician, and keeping it going strong for a lifetime. He talks with clarity and humor about finances, setting goals, seeking out the right musicians, and most importantly, serving others with the career you create.
Eric B.
Useful, practical advice for those wanting to enter the music business by someone who has been there.
William V.
Please read this book it will put you back on track or put you on one… My band read the book and it helps 100%.
Kirk F.
This entire book was awesome a blessing, motivation, and great inspiration to my life. I never thought anyone understood me until I read this book. It's given me peace with myself by letting me know that I can do big things and that I'm going in the right direction. I believe that this is a great book because Steve is sincere and best of all he has God who directs him.
Za Redmon
Why your talent can be your biggest problem and how to overcome it.

The how, what and why of planning a life long career in music.

How and why you must think like a business owner (hint: it's called the music business).

Why people are the key to your success and how to work with them every day.

How to use what you REALLY want to do in music to help you succeed in what you REALLY want to do in music!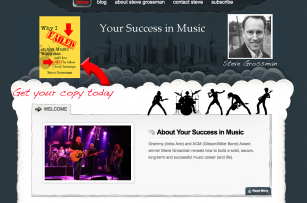 Your Success in Music
For my latest thoughts on succeeding in today's music business, check out my posts, videos and resources at Your Success in Music (http://yoursuccessinmusic.com).
Posts on everything you need to know to get noticed, heard and hired.
Info on Webinars, live workshops, Google Hangouts and one-on-one coaching.
Book announcements and special offers.
Thanks for checking out my book. I wish you all the best in your pursuit of your most wonderful and important dream.
Your Success in Music dot com